The Sisters of Saint Benedict:
Earnest in prayer and mighty in their labor of love
By Fr. Donald S. Raila, O.S.B.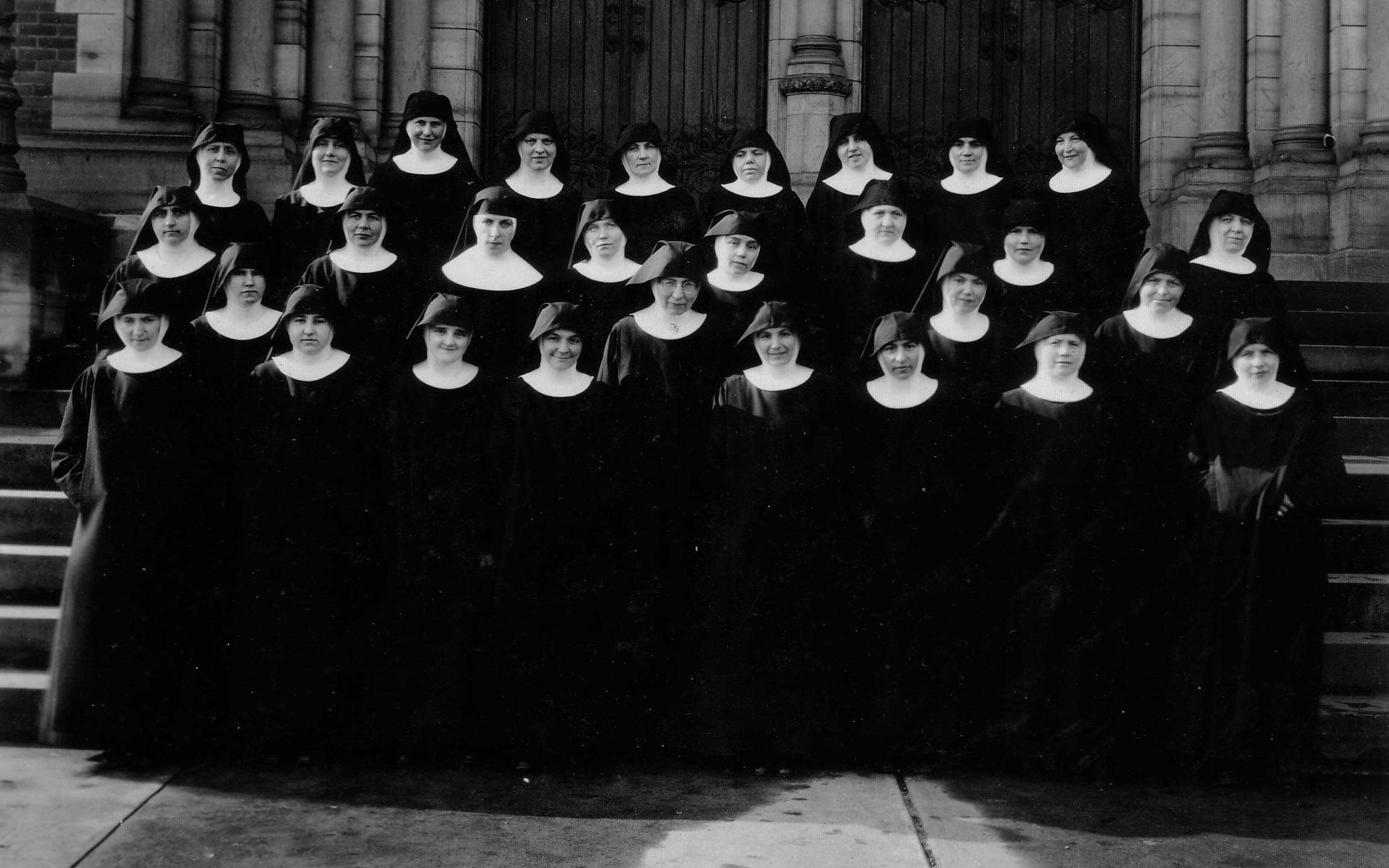 FIRST GROUP: Among the first group of Benedictine Sisters to arrive at Saint Vincent from Bavaria in February of
1934 were the 29 Sisters pictured here on the front steps of the Archabbey Basilica. They included, front row, from left,
Sisters Aloysia, Gaudentia, Liberata, Brigitta, Dolores, Blandina, Leodegaria and Josephine; second row, Sister Teresa,
Mother Leonarda, Sisters Felicitas and Stilla; third row, Sisters Hedwig, Justina, Aurelia, Monika, Pia, Johanna, Bonifatia and
Armella; fourth row, Sisters Josepha, Domitilla, Adelheide, Richmundis, Veronika, Barbara, Benigna, Ratigundis and Philomena.

(additional photos may be found at bottom of article)
Back in the sixth century, Saint Scholastica, the sister of Saint Benedict, used to visit her brother once a year at a house located a short distance from his monastery. Saint Gregory the Great reports in his Dialogues that on Scholastica's very last visit she, her brother, and a few other monks "spent the whole day singing God's praises and conversing about the spiritual life." Although Scholastica wished to "keep on talking about the joys of heaven until morning," Abbot Benedict insisted that he had to return to his monastery. Subsequently, his sister resorted to "earnest prayer," which was followed by a sudden downpour of rain, so that Benedict could not depart. Saint Gregory concluded that "in this instance she proved mightier than her brother ... since hers was the greater love." Ever since that notable encounter over 1450 years ago, the sisters of Saint Benedict, spiritual heirs of Saint Scholastica, and the monks of Saint Benedict have enjoyed a very special relationship and mutual influence, as evidenced locally in the intertwining of their paths in Latrobe and Greensburg since 1931. Originally residing at Saint Vincent but now located at Saint Emma Monastery in Greensburg, the sisters persevere in their vocation to be earnest in prayer and mighty in the labor of love that profoundly touched the whole Saint Vincent Community for 56 years.

Early years at Saint Vincent

On February 25, 1931, ten Benedictine sisters, led by Mother Leonarda Fritz, O.S.B., arrived at Saint Vincent Archabbey from Saint Walburga Abbey in Eichstaett, Bavaria. It was very appropriately the Feast of Saint Walburga, the patroness of their motherhouse in Germany. Archabbot Alfred Koch, O.S.B., had invited the sisters to live and work on the grounds of Saint Vincent. This arrangement provided for the needs of the Archabbey, which was suffering from severe financial problems and a decrease in the number of lay brothers, who for years had been the backbone of Saint Vincent's labor force. The sisters' work also assisted the community in Bavaria financially in the aftermath of World War I, when Germany experienced great economic difficulties. Prior Felix Fellner, O.S.B., met the sisters in New York City and accompanied them to the Archabbey, where they promptly took charge of the College's kitchen. Within a year six more sisters arrived from Saint Walburga, and in 1932 the monks built an annex to Bede Hall to provide the sisters with a five-story convent. After 11 more sisters came from Eichstaett in 1934, their numbers were large enough for the sisters at Saint Vincent to take on the responsibility of the monastery kitchen. Four of the newly arrived sisters plus two others who already were at Saint Vincent were sent to Holy Cross Abbey in Colorado to manage the kitchens of that monastery and its school. Two sisters from Eichstaett and one from Holy Cross became the founders of what later became Saint Walburga Abbey, now located in Virginia Dale, Colorado.

By 1939 there were 40 Benedictine sisters at Saint Vincent living in rather crowded quarters. From 1931 until World War II, all the income they earned was sent back to the community in Germany. These funds enabled the monastery in Eichstaett to buy properties for the two foundations, in Boulder and in England, that it made in the 1930's. During the Depression years, in addition to the many demands that they were already fulfilling, the sisters stretched themselves to show charity to the homeless men who came daily to the Archabbey in search of food. The sisters prepared meals for as many as 40 needy men each day and also gave out care packages of food to impoverished families who came to the kitchens. Several of the lay brothers distributed the food to the destitute people.

It was the sisters' life of prayer that enabled them to be so generous in their care-filled service. For many years at Saint Vincent, the sisters' daily schedule included rising at 4:00 A.M., gathering for Mass and for three sessions of common prayer in German, and working almost 14 hours before retiring at 9:00 P.M. As a symbol of their religious consecration, the sisters wore - and continue to wear - full black habits including veils with headpieces. During work periods they typically wore over their habits blue-and-white checkered aprons. The sisters themselves made both their habits and their aprons.

Very soon after their arrival the German sisters gained the admiration and affection of collegians, prepsters, seminarians, and monks alike. A brochure written in 1988 to announce the creation of a "Benedictine Sisters Scholarship Fund" at Saint Vincent College reported, "Many Saint Vincent students and alumni delight in reminiscing about the sisters and their insistence to eat more while piling the students' plates high with generous portions of food. Although there was little time for conversation in the serving line, friendships between students and the sisters often developed." One sister was quoted as saying, "Oftentimes students would talk to the sisters in line and say, 'Pray for me, Sister, because this or that is going on.' We always made time to be close to our students, just like a family." Sister Monica Biller, O.S.B., the only sister both of the original group to arrive in 1931 and of the last group to leave Saint Vincent in 1987, recalled many years later, "I was very young, only 20 years old. My first job was in the serving line for the Prep School students; they were my favorites always. I was homesick at first, ... but I learned to love Saint Vincent very soon. I didn't speak English at all, but the young men taught me, and they were so good!" Mother Leonarda herself won the respect and affection of the students, who came to call her "Mother Bearcat."

In April, 1934, Abbess Benedicta of Eichstaett crossed the ocean to visit her sisters at Saint Vincent. The whole community warmly received the superior of the sisters who had quickly become part of their lives. She delivered several addresses to the monks and students and was honored at a special reception at the College auditorium in Bede Hall.

Until 1979, when the food-service management company hired in 1969 assumed many of the tasks that the sisters had performed in the kitchen, the sisters cooked and served about 3,000 meals a day for the Saint Vincent Community. From 1979 to 1987 the sisters continued to serve food in the College cafeteria and to direct the serving of monks, seminarians, and guests. Sisters also baked pastries for Saint Vincent until 1986.

The founding of Saint Emma Monastery

When World War II prevented the sisters at Saint Vincent from sending their income back to Germany, their abbess in Eichstaett gave them orders to "look after themselves" and to find a more permanent residence. In 1943 Mother Leonarda, accompanied by Sister Agnes Regensburger, O.S.B., led the sisters in purchasing the John Robertshaw estate, consisting of a house and ten acres of land north of Greensburg. The next year they also acquired an adjoining 93-acre farm owned by the Robertshaws. Mother Leonarda's intention was to provide the sisters with a summer house and a place to which they could retire from their work at Saint Vincent, as indeed they did 44 years later. However, even while the property was being bought, groups of people asked to use the grounds for retreats and days of recollection.

Under Mother Leonarda's wise leadership the development of Saint Emma responded to people's felt need for a retreat center. The first building project on the site consisted of the Fatima Chapel, constructed in 1950, which seated 120 people for retreat liturgies. In 1954 a retreat house with private rooms for 49 people was added. Recognizing the need to provide for future vocations, Mother Leonarda had a novitiate wing built in 1960 when she was 80 years old, and the first novitiate had its beginnings in February, 1961, when three American women entered as postulants. The 83-year-old superior was still actively planning for the future in 1963, when a second wing was added to the monastery in anticipation of the arrival of sisters who would no longer be at Saint Vincent. Mother Leonarda also perceived the need for a cemetery. As of 1964, five of the German-born sisters had died and had been buried at Saint Vincent; but since Saint Emma was the motherhouse, it seemed appropriate to provide a burial place there. In the fall of that year, a cemetery was laid out in the center of a large orchard, with stations of the cross leading up to a large, stone-carved scene of the crucifixion. Providentially, Mother Leonarda was the first of the sisters to be buried there after her death on May 8, 1965, at the age of 85. She was succeeded as superior by Mother Emmanuel Drey, O.S.B., who remained in that office until her own death on January 17, 1973. It was Mother Emmanuel who planned the building of the Saint Walburga Shrine at Saint Emma. The 12 stained-glass windows of the star-shaped structure came from the closed Saint Walburga Church in Pittsburgh and were graciously offered to the sisters by Bishop Vincent Leonard. The shrine was completed in 1974 under the direction of Mother Agnes.

Later days at Saint Vincent and the move to Saint Emma

Despite increasing age and infirmity, the sisters continued to labor lovingly and faithfully at Saint Vincent until 1987. In 1967 the sisters took on the additional apostolate of serving the Pittsburgh Steelers when the football team began to hold its summer training camp on the College's football field. The Steelers soon came to relish the generous, gentle service that they received from the diminutive sisters, and they would look forward to renewing their acquaintances as summer approached. They would inquire specifically about Sister Pancratia Fruth, the only sister who actually served the Steelers on their food line. Mother Hedwig Scholz, the local superior at Saint Vincent from 1973 to 1987, remarked in an interview for the April 28, 1987, edition of The Pittsburgh Press, "Sister Pancratia was a great Steeler fan and knew all the Steelers by name. She'd often tell the Steelers that she'd pray for them before each game so that they wouldn't get hurt." When in 1970 the sisters moved to their new quarters in Placid Hall, Mother Hedwig noted that the sisters could then look through their windows to see the Steelers practicing and keep them in special prayer.

As the sisters at Saint Vincent grew older, they had to adapt to many changing conditions. As of February 1, 1969, a commercial food service was hired to manage the ordering and planning of menus. In 1978 Sister Reinildis Fieger, who had been the head cook for some years, became seriously ill with cancer and was transferred in December, 1978, to Saint Emma, where she died three weeks later. Early in 1979 new dining facilities were opened for the collegians, and after Sister Aleydis Bauer left for Saint Emma in March, the food service took charge of the kitchen and lay people did all the cooking. The sisters had previously worked in kitchens in a rather dark basement area under Placid and Anselm halls and had pushed wagons of food through tunnels with low ceilings that were made even lower by mazes of pipes. The sisters now worked above ground alongside the food-service employees in their particular specialties. For example, Sisters Praxedes Lintner and Pudentiana Lintner, who were also blood sisters, continued to provide baked goods from the new second-floor bakery and were sometimes known as the "Bakery Sisters." Sister Ancilla Brunner, who staffed the salad area, acquired the nickname "Sister Bombardier" since she would slice sandwich buns and bread and then throw them down from the balcony to the cafeteria below, where a lay employee stood ready to catch the bags. Sister Maria Hausler, who worked in the College cafeteria from 1966 to 1987, became known as "Sister Soup," since she had served soup to collegians as long as many could remember; she also helped to keep the cafeteria spotless after meals. As time went on, however, the sisters grew fewer in number through infirmity and death; those sisters who could no longer handle the kitchen work at Saint Vincent were reassigned to Saint Emma.

In December, 1986, Mother Franziska Kloos, O.S.B., the Abbess of Saint Walburga Abbey in Germany, visited her sisters at Saint Vincent and Saint Emma. Observing the difficulty with which the aging sisters labored at Saint Vincent, she recommended that these remaining 13 sisters join the 20 sisters then at Saint Emma. Such a move would also fulfill the ideal of all the sisters' living together in one place. The date for their move was set for May 22, 1987. Throughout 1987 the sisters received much publicity as they ended 56 years of faithful, loving service at Saint Vincent Archabbey, College, and Seminary. In April, 1987, the College's Student Government Association presented the sisters with a plaque in gratitude for their years of dedicated service to the students, and a Mass was celebrated in appreciation of the sisters, with Father John Murtha, O.S.B., President of the College, as the principal celebrant. As the sisters prepared to move, Mother Hedwig commented, according to a press release from the College, "It is our time to go. We have happy memories. It was a great privilege to live and work at Saint Vincent. It kept us young at heart." The day before the move a grand farewell was celebrated at Saint Vincent. Archabbot Paul Maher, O.S.B., and 84 other priests concelebrated a Mass at the Archabbey Basilica in honor of the sisters, and a festive meal and a reception followed. These events expressed the desires of both communities to continue to nurture the close bonds that had developed between them.

Indeed, there were many occasions to renew long-standing relationships. At the first Founders' Day celebration at Saint Vincent on December 8, 1987, the sisters were given front seats at the festive Mass and the dinner that followed. On the afternoon of December 24, 1987, 18 monks came to visit Saint Emma to sing Christmas carols, much as they had done previously at the convent at Saint Vincent and as they have continued to do each day before Christmas at Saint Emma. In future years contingents of collegians would also travel to Saint Emma in December to sing carols to the sisters. Groups of sisters would continue to attend festive events at the Archabbey, and monks would often travel to Saint Emma to direct retreats, to make retreats, and to join the sisters for celebrations of jubilees, professions of monastic vows, and funerals. In May, 1988, a festive Mass marked the silver jubilee of the first two American sisters to persevere in vows for 25 years. Since that time the sisters have regularly invited the monks of Saint Vincent to join them to celebrate many 25th, 50th, and 60th jubilees.

Life at Saint Emma since 1987

Despite increasing age and infirmity, every sister at Saint Emma continued to offer whatever heartfelt loving service she could to the community and to the retreatants, even as the sisters had so faithfully served monks and students at Saint Vincent. Sisters Gaudentia Kaemmerle, Margareta Stephan, and Scholastica Ferstl, who had staffed the monastery dining room at the Archabbey, now worked together in the retreatants' dining room at Saint Emma. Sister Brigitta Heller, who had peeled thousands of potatoes in the kitchen at Saint Vincent, persevered in her humble service, too; by 1991, at the age of 90, she was nearly blind but, as reported in the sisters' newsletter, continued to "clean a rest room and a hall every day, help with the dishes after each meal in the convent and in the retreat house, and rake grass and leaves." Sister Aleydis Bauer, who had assisted the head cook at Saint Vincent, came to Saint Emma in March, 1979, to direct the cooking for the retreat house until she suffered a stroke on August 17, 1995; she died in March, 1998. Still active in baking bread as of her 90th birthday on October 16, 1998, Sister Boniface Wagner, who had come to Saint Emma from Boulder in 1964, suffered a heart attack three days later and required quadruple bypass surgery. By February, however, she was baking bread again, and on March 4, 1999, she shoveled the 10 to 12 inches of snow that had fallen on one of the walks at Saint Emma. In the summer of 1998, a newspaper photographer caught a view of Sister Bonfilia Faerber, who had come from Boulder in 1984 and who was in her 70's, riding a tractor to cut grass. The resulting photograph won a national award in the Catholic press. Sister Hermelinde Karl, who had cooked at Saint Vincent for 39 years until a severe heart attack brought her to Saint Emma in 1975, recuperated well enough to continue cooking for the sisters for 17 years until she was 90, and she lived to be 96. In reporting the death of Sister Liberata Hofmann on October 7, 1989, her 83rd birthday, the sisters' newsletter commented, "[She] had been the main cook at Saint Vincent Archabbey and College from 1953 to 1972, when she suffered a severe heart attack and came to Saint Emma's. As she gradually regained some strength, she ... cleaned the sinks in each room in the retreat house along with the Sisters' dining room plus halls. Her pace was slow but constant, and she helped wherever she could."

At the same time about 100 groups of retreatants and a total of 3500 people were coming to Saint Emma every year for retreats and days of recollection, and similar numbers continue to flock to the retreat house to this day. A dedicated staff of volunteers grew to meet the needs of retreatants and to compensate for the older sisters' lessened physical ability. Saint Emma can boast that even today there is not a single hired lay person on the grounds. The sisters firmly believe that God has provided and will continue to provide them with all the necessary help to keep the retreat house and gift shop running smoothly and gracefully. Various events at Saint Vincent kept alive fond memories of the Benedictine sisters' long years of service at the Archabbey. In December, 1989, the sisters were particularly honored at the annual Founders' Day. The art exhibit at the King Ludwig Gallery assembled for the occasion was entitled, "Saint Vincent's Gentle Touch: The Benedictine Sisters," and a special brochure issued on that occasion told the story of the sisters from the foundation of Saint Walburga Abbey in Eichstaett in 1035 A.D. At the commencement ceremonies on May 12, 1990, Saint Vincent College President Father John Murtha presented the first Presidential Medal of Honor to the Benedictine sisters. Sister Monica, the last surviving sister among those who had arrived in 1931, accepted the award. In October, 1990, Saint Vincent Seminary presented an award to Sister Seraphina Irlbeck, who had worked for over 50 years in the Seminary dining room. On February 25, 1991, the sisters celebrated the 60th anniversary of their arrival in the United States. Retired Archabbot Egbert Donovan, O.S.B., recollected on that occasion how, as a senior at the Prep School in 1931, he had seen the sisters "alight from the cars that brought them from the local train station."

Mother Agnes Regensburger, O.S.B., was the superior of the sisters at Saint Emma from 1965 until 1993. She had arrived at Saint Emma from Saint Vincent back in 1952, when she was asked to care for Bishop Hugh Lamb, who had taken up residence at Saint Emma; he was the first bishop of the newly created Diocese of Greensburg. Little did she realize that her supposed assignment of "three weeks" would keep her at Saint Emma for 43 years! When Mother Leonarda died in 1965, Sister Agnes was appointed the superior at Saint Emma, and she was named Prioress in 1973. In the first election of a Prioress in 1988, Mother Agnes was chosen to continue to lead the community for a five-year term. On August 30, 1993, Sister Mary Anne Noll, O.S.B., was elected as Prioress to succeed Mother Agnes, who died on March 17, 1995, at the age of 83. The new superior became the first American-born sister to lead the community, and with Mother Mary Anne's election there began a new era in the life of the Saint Emma community.

Already under Mother Agnes there had been significant new developments. In 1979 construction was completed on a three-story building used for a retreat dining room and kitchen; these facilities were blessed on February 25, 1979, the 1200th anniversary of the death of Saint Walburga. In 1986 a Blessed Sacrament Chapel was added to the Fatima Chapel. In 1990 an "elevette" was installed in the second monastery building. For years the sisters had used the kitchen door in the original Robertshaw house as an entrance for monastery guests and for business. Since there were 35 outside doors on the grounds, it was difficult for visitors to know where the monastery entrance was. Therefore, plans were made for the construction of a new monastery entrance. Work was begun in October, 1993, and the new entrance was blessed on June 29, 1994, by Archabbot Douglas Nowicki, O.S.B. The community also realized that it needed to intensify its efforts to attract new vocations. After a long period without new sisters entering the monastery, Toni Amorino of Apollo became a postulant on October 1, 1993, after three years as a volunteer. She took the name "Sister Mary Clare" when she made her first vows on April 14, 1996, and she professed solemn vows on July 1, 1999. Another volunteer, Betty Mintus, entered as a postulant on March 19, 1996, and later became "Sister Franziska" when she professed first vows on September 5, 1998. Julia Augustine entered the community on August 15, 1997, and professed her first vows as "Sister Renata" on May 27, 2000.

Even with the arrival of younger sisters, the German-born sisters who once worked at Saint Vincent continue to play an important part in the community. Sister Gaudentia Kaemmerle, now 87 years old, serves as guest mistress and helps to clean the monastery dining room. At 88, Sister Wiltrud Ott still assists in the monastery kitchen. Sister Pancratia Fruth continues to do laundry and wash dishes. Sister Maria Hausler works in the monastery kitchen. Although Sisters Hedwig Scholz, Ancilla Brunner, and Gabriele Hausler now reside at Saint Anne Nursing Home, the sisters at Saint Emma maintain close contact with these infirm members of their community. Sister Ancilla, who had been the sisters' chauffeur at Saint Vincent, cooked at Saint Emma Retreat House until a stroke disabled her at the age of 85½. She and Sister Hedwig, who suffers from Parkinson's disease, both maintain a lively interest in events in the community and in the world. Also, Sister Corona Broich, who arrived from Boulder in 1976, became known to visitors at Saint Emma for her years of energetic service in the gift shop; at this time last year, at the age of 88, she was still scrubbing bathrooms in the retreat house, making wax angels, and directing customers to the store.

Recent developments at Saint Emma Monastery

The Benedictine sisters at Saint Emma have many reasons to look forward to a bright future. Even as the community's German-born sisters experience illness and depart in death, new life is being injected into both the community and the retreat apostolate. In the Advent, 2000, newsletter Mother Mary Anne reported, "Since the mid-90's, six women have entered [the community], including three this year. Since mid-February, 42 women have made an initial contact, and indeed eight of these women have already visited! We are experiencing the fruit of your prayer for our community." Also, the prayer life of the community continues to flourish. As of the First Sunday of Advent, 1999, Vigils were added to the schedule of community prayer, so that the sisters now pray the full Liturgy of the Hours six times every day in English, most of it sung according to simplified Gregorian chant melodies. As interest in retreats has expanded, so have the demands of the gift and book shop. Following renovations in 1997, the store began to serve the public on a daily basis with regular hours in November of that year. After a further extensive renovation, a celebration was held in November, 1999, to mark the grand reopening of the "Benedictine Sisters Catholic Gift and Book Shop," with a special selection of Benedictine books and another section with Benedictine religious articles. On July 1, 2000, about 210 people joined the sisters to celebrate the 50th anniversary of the dedication of the Fatima Chapel, which had also been extensively renovated in the fall of 1999. It was recalled on that occasion that in 50 years over 165,000 people had come to Saint Emma to grow closer to God by making retreats and days of recollection. On November 11, 2000, a newly-constructed monastic guest house received an official blessing. This accommodation is now available for individuals or small groups to make retreats, pursue sabbaticals, or take "monastic vacations." People are invited to "come and rest awhile" in a God-centered atmosphere and, if they wish, to join the sisters for Mass and the Liturgy of the Hours.

Finally, as of this writing, the sisters have begun their first-ever capital campaign, named "Monastic Life: A Gift Received, A Gift Shared - The Campaign to Strengthen Essential Benedictine Values." The effort to raise $2,600,000, formally announced last July, includes plans to construct a monastic chapel with choir stalls for 30 nuns and seating for 80 guests, an office for the Prioress, spaces for conferences for the community, and a monastic library. These projects are meant to fulfill the sisters' vision, in Mother Mary Anne's words, to "express more fully in brick and mortar the primacy of God in our lives through a monastic chapel which is the heart of our monastery, the pre-eminence of the monastic superior as spiritual guide and the role of the community in Benedictine spirituality." As of late November, 2000, some $900,000 had been pledged and $500,000 received toward the goal of $2.6 million. Also, the sisters plan to extend the hospitality of the retreat house by making it handicap-accessible with a four-story elevator and by adding two conference rooms, one for 90 people above the present retreat dining room and another for 20 people in what is now storage space. Regarding all these building plans, it is hoped that Benedictine values will be expressed in the architecture to remind sisters, retreatants, and all guests of Saint Benedict's emphasis on strong community life, warm hospitality, and Christ-centeredness in every dimension of life.

Conclusion

In the brochure which accompanied the Founders' Day art exhibit in 1989, Brother Nathan Cochran, O.S.B., aptly summarized the indelible mark that the sisters left on the communities at Saint Vincent:
"These quiet and humble sisters, who have done so much for those at Saint Vincent and for those who make retreats at Saint Emma, downplay their role in helping to build the kingdom of God. They do not see themselves as special. They see only how a Christian should live, and then they do it ….

"Their lives are remarkable, for they left their families, both natural and monastic, to come to a foreign country. They served the monks, students, employees, and guests of Saint Vincent, and in the summer they served the Steelers. The sisters are remembered with fondness by all of them. For who can count the number of people they served? Who can count the number of meals, or hamburgers, or gallons of ox-tail soup? Who can count the number of monastic and priestly vocations that were saved by their prayers and gentle words of encouragement?

"They came with the gifts of youth: vibrancy, enthusiasm, and first fervor. Time and grace matured these gifts into steadfastness, dedication, and true service. Whenever they dished out meat, poured coffee, baked cakes, washed dishes, dropped buns from balconies, or decorated Christmas cribs, they gave us the feeling of family, home, rootedness, and sisterly (and sometimes motherly) love. Their gentleness rubbed off on us so that we have become a little more gentle. Yet they also taught us perseverance, because who but dedicated and God-seeking individuals can smile and serve people for over fifty years?"

The long-standing relationship between the community of sisters at Saint Emma and the constituent communities of Saint Vincent Archabbey has had varied expressions over the years but remains vibrant. The sisters continue to visit Saint Vincent for jubilees, funerals, and other special celebrations. The Benedictine monks continue to reciprocate such visits for the sisters' celebrations; they also use the retreat facilities and often serve as retreat masters at Saint Emma. Father Prior Earl Henry, O.S.B., currently serves as a member of the steering committee for the sisters' first capital campaign. The alumni of the College, Prep School, and Seminary continue to cherish memories of the sisters' loving service that they received as students at Saint Vincent. Our communities of sisters, monks, students, and alumni have reason to hope and pray that the intertwining of their paths may help us all to deepen our love for God, to stir up our earnestness and zeal for prayer, and to strengthen our commitments to serve one another with a mighty labor of love.

(To make a gift to the Benedictine sisters' capital fund-raising campaign or to obtain further information about the sisters' plans, contact Mother Mary Anne Noll, O.S.B., Saint Emma Monastery, 1001 Harvey Ave., Greensburg, PA 15601 (phone: (724) 834-3060). The sisters may also be contacted at their website (www.stemma.org) with e-mail address benedictinenuns@stemma.org.)
Fr. Donald S. Raila, O.S.B. is a monk of Saint Vincent Archabbey.
Additional photos shown with the article: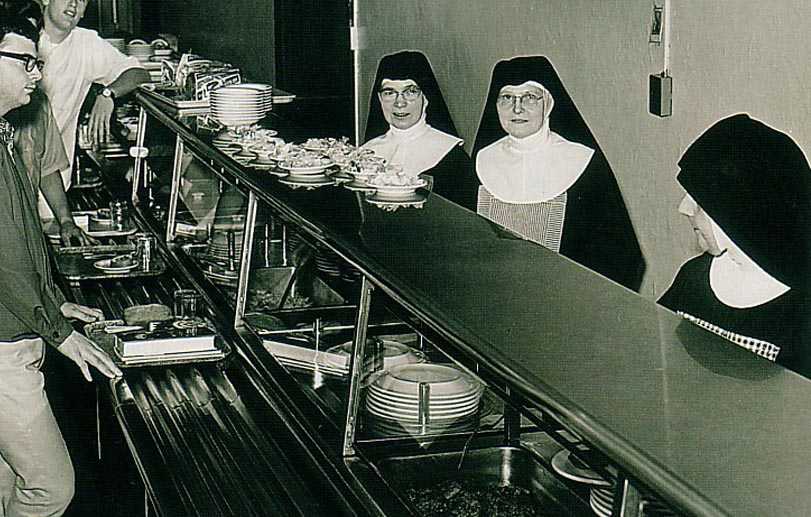 Sisters Pancratia, Margareta and Friedhilde serving the collegians in late 1960s.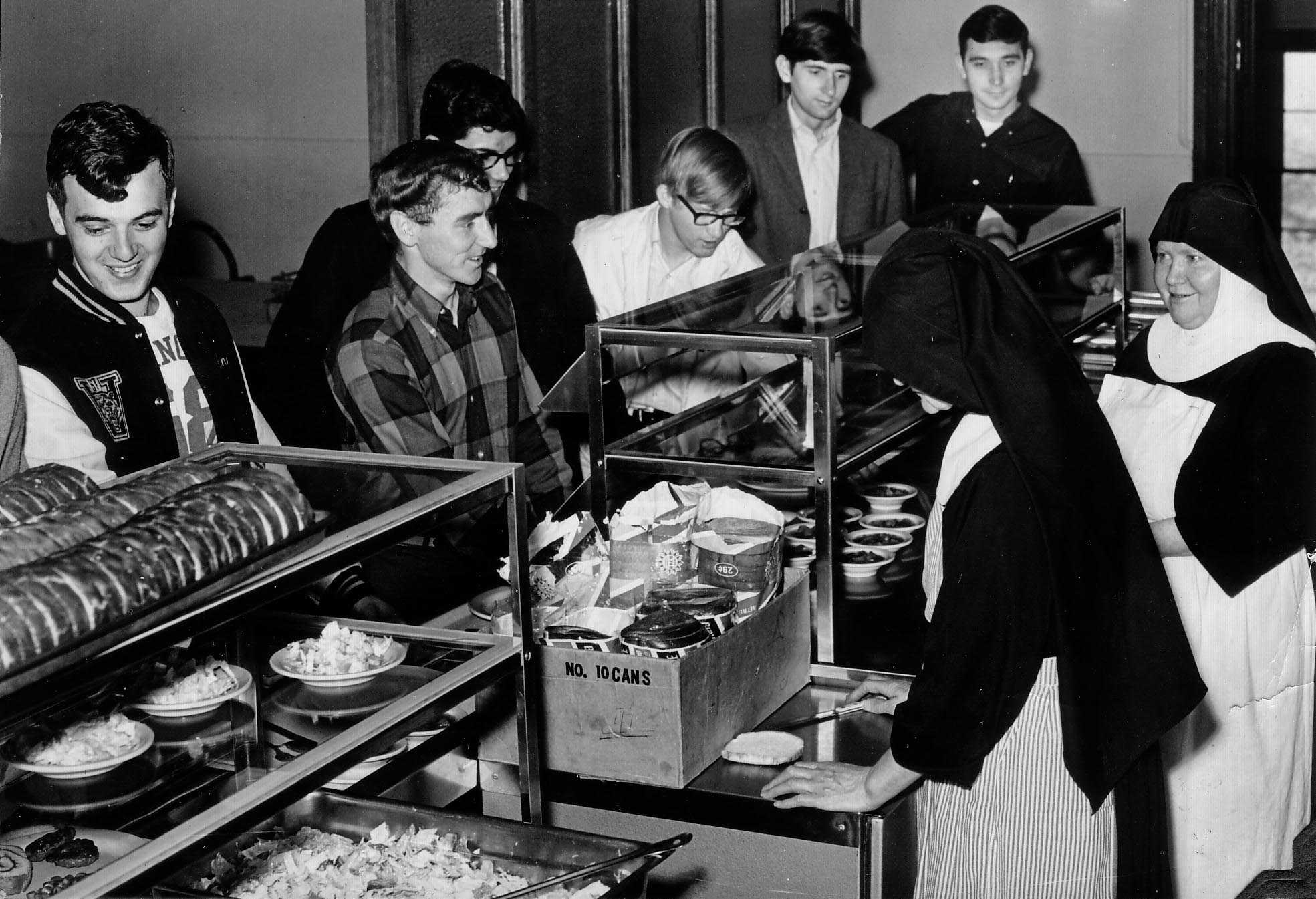 Sisters Christiana and Monika bring smiles from collegians, early 1970s.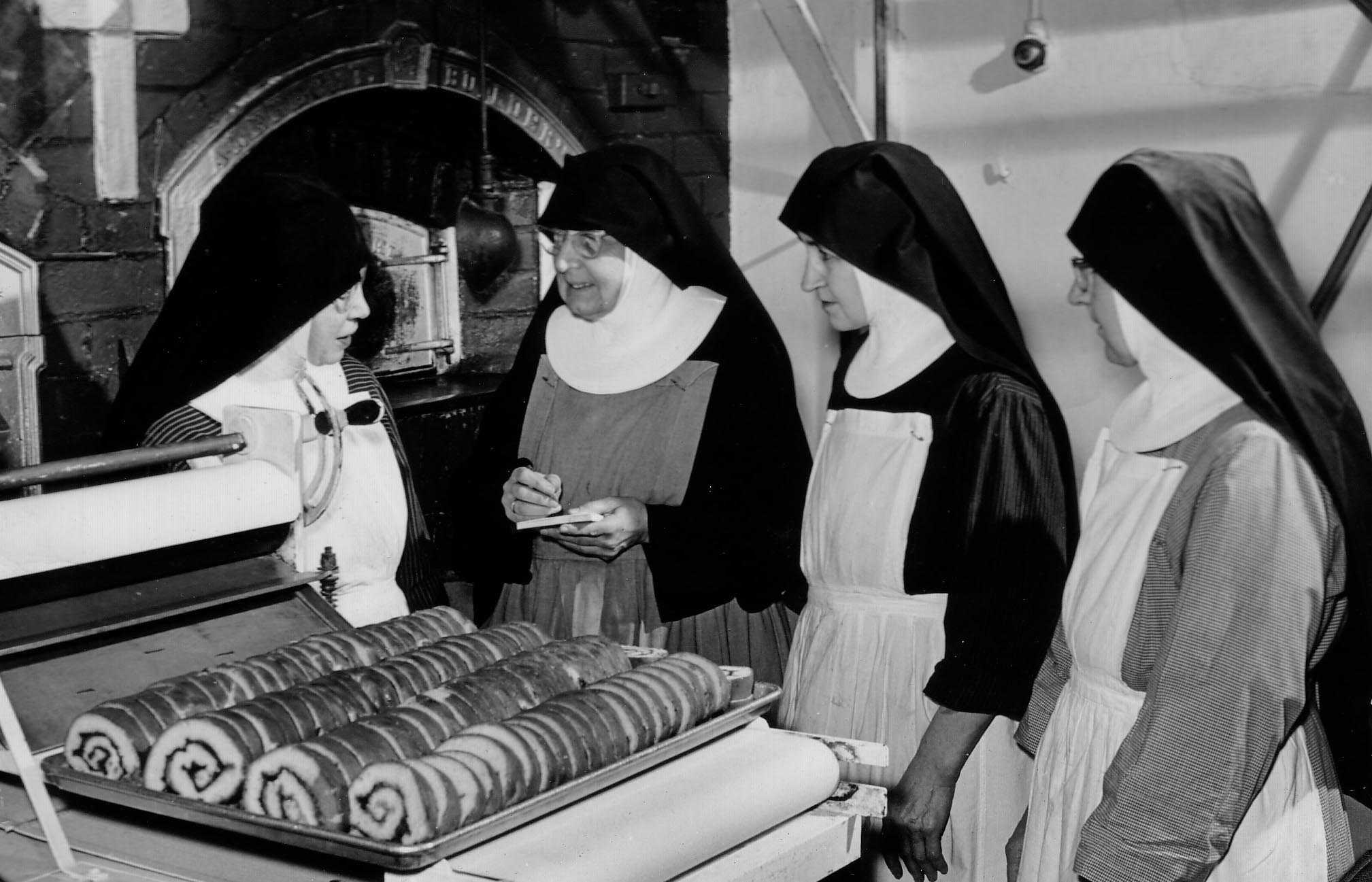 KITCHEN CONFERENCE -- Mother Emmanuel, second from left, confers with Sisters Felicitas, Pudentiana and Praxedis in the Placid Hall bakery.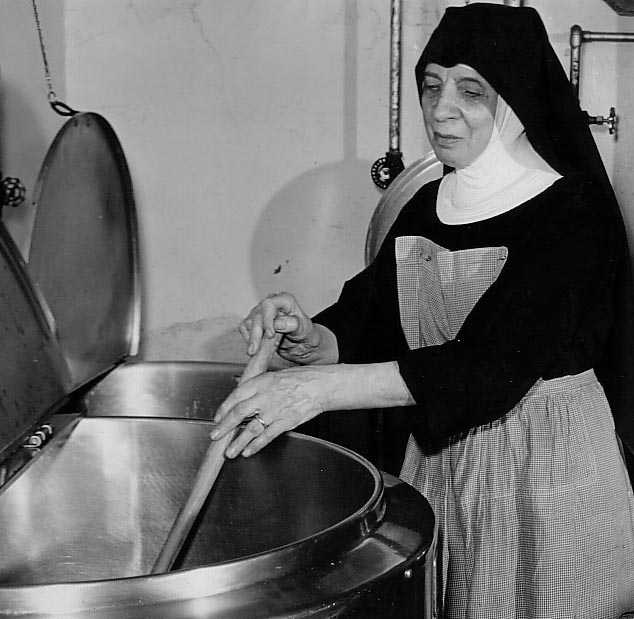 Sister Hermelinde stirs the soup.


Sister Ancilla Brunner stacks loaves of the famous Saint Vincent bread.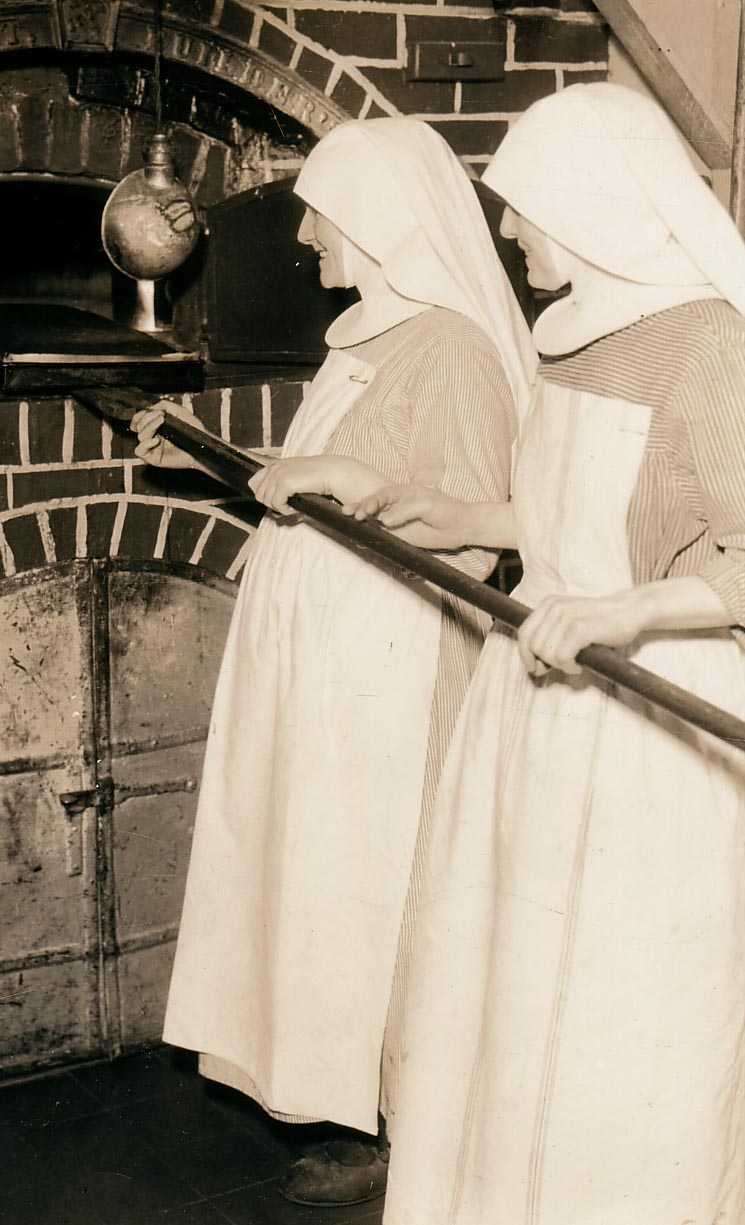 Sisters Aloysia and Margareta prepare to remove bread from the wood-fired oven.